Scott Cruikshank, Ph.D.
Edit My Page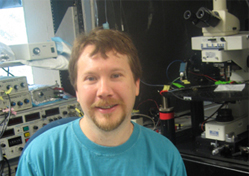 Title: Assistant Professor of Neuroscience (Research)
Department: Neuroscience
Scott_Cruikshank@Brown.EDU
+1 401 863 7597
> Download Scott Cruikshank's Curriculum Vitae in PDF Format
Overview | Research | Grants/Awards | Teaching | Publications
I study processing mechanisms in thalamus and neocortex, which are brain areas that allow us to sense, perceive, think and learn. This work utilizes several techniques, including electrical recording from neurons in whole animals and in brain slices kept alive under glass. Optogenetic, anatomical and drug studies complement the recording experiments. The goal is to characterize principles of thalamic and neocortical microcircuits and contribute to an overall understanding of brain operation.
Research Description
GENERAL INTERESTS:
My research is directed at understanding processing mechanisms in thalamus and neocortex. Techniques include in vitro and in vivo intracellular and extracellular electrophysiology, pharmacology, central microstimulation, anatomy, behavior and channelrhodopsin-based optogenetics. The goal has been to characterize the organization and operation of thalamo-cortical circuits and to contribute to the understanding of information processing in the forebrain.

AUDITORY FOREBRAIN PLASTICITY IN VIVO:
My graduate work involved the in vivo study of synaptic plasticity in auditory forebrain (Cruikshank, 1997), focusing on contributions of Hebbian induction mechanisms to receptive field changes during behavioral learning (Cruikshank & Weinberger 1996a; 1996b). I also examined interactions between plasticity and arousal state, including the role of the basal forebrain cholinergic system (Cruikshank & Weinberger, 2001). Techniques included behavioral (Cruikshank et al., 1992) and neurophysiological methods, involving cell-attached recordings with patch electrodes in vivo, at times from awake guinea pigs.

AUDITORY THALAMOCORTICAL ORGANIZATION AND FUNCTION:
My intial postdoctoral studies focused on the organization and function of the auditory forebrain (Cruikshank, et. al., 2001). I helped develop an in vitro auditory thalamocortical slice preparation and used it to examine anatomy, physiology and pharmacology of connections within the system (Metherate & Cruikshank, 1999; Cruikshank et al., 2002). One major finding was that acetylcholine agonists suppress cortical synaptic responses originating from intracortical sources more strongly than those from thalamic sources (Hsieh, Cruikshank & Metherate, 2000). This suggests that during periods of high acetylcholine release, such as behavioral arousal, acetylcholine tips the balance in cortex, selectively suppressing ongoing intracortical activity, thus favoring external sensory information.

THALAMOCORTICAL MICROCIRCUITRY AND OPTOGENETICS:
As a research professor at Brown University I have worked on three main topics:

1. ELECTRICAL SYNAPSES: There are two basic modes of synaptic communication: chemical and electrical. Until recently, most neuroscientists assumed that electrical synapses were limited to a few brainstem areas. This assumption was shattered in 1999 with the discovery of widespread electrical connections between neocortical inhibitory cells (Galaretta & Hestrin, 1999; Gibson et al., 1999). One of my goals at Brown has been to help understand electrical synapse function in thalamus and cortex (Cruikshank et. al., 2005). A fundamental part of this has been to characterize the spatial and temporal distributions of gap junctions. For example, we discovered electrical coupling between thalamic relay cells (Lee, Cruikshank & Connors, 2010), contradicting an emerging consensus that electrical synapses were exclusively located among inhibitory cells of forebrain. We have also investigated the developmental time course of coupling and the gap junction proteins involved, utilizing connexin knockout mice. We found dramatic differences in the developmental expression patterns for two highly interconnected thalamic nuclei. Relay cells of the ventrobasal thalamus undergo a precipitous decline in coupling during the first two postnatal weeks (Lee, Cruikshank & Connors, 2010) whereas inhibitory cells of the thalamic reticular nucleus maintain stable coupling across the same period despite massive developmental changes in intrinsic cellular properties (Parker, Cruikshank & Connors, 2009). The pharmacology of electrical synapses is another basic research contribution. While most blockers of gap junctions have poor specificity, we recently characterized a compound called mefloquine, which we found to be a potent and relatively specific blocker of the neuronal connexin (Cx36)(Cruikshank et al., 2004). Partly due to our study, mefloquine has become a widely used tool in gap junction research. Finally, I have also contributed to more direct studies of electrical synapse function. For example, we found that gap junction-mediated synchrony of neocortical interneurons can synaptically synchronize surrounding excitatory cells (Long, Cruikshank, Jutras & Connors, 2005). However, we lack a clear understanding of gap junction function in thalamocortical processing (Cruikshank et al., 2005) so this remains an important subject for future research.

2. MECHANISMS OF THALAMOCORTICAL PROCESSING. The second topic I have pursued at Brown is cortical processing of thalamic input, beginning with the earliest stages: mono- and disynaptic thalamocortical responses in cortical layer 4 (Cruikshank et al., 2007). My focus has been on interactions between excitatory spiny stellate and inhibitory fast spiking (FS) interneurons, both of which receive monosynaptic thalamic projections and connect to one another. Thalamocortical responses are much stronger in FS interneurons than in excitatory cells. I found that this response difference is due to synaptic (rather than intrinsic) mechanisms; thalamocortical input onto FS interneurons is stronger and faster than that onto excitatory cells, partly due to a greater thalamic innervation. These strong and fast inputs cause FS cells to spike. FS firing, in turn, produces short latency inhibition on surrounding excitatory neurons, suppressing their responses. Interestingly, the FS cells also synapse on other FS cells. However, because thalamocortical synapses onto FS cells have extremely fast kinetics, they are able to fire action potentials before significant feedforward inhibition has time to emerge (Cruikshank Lewis & Connors, 2007). These discoveries have led to a variety of important issues/questions which provide a basis for much of my current research.

3. CORTICAL AND THALAMIC INTERACTIONS STUDIED WITH CHANNELRHODOPSINS. The third main area I have pursued at Brown is the application of optogenetic technology to understanding thalamocortical microcircuitry. Over the past few years we have been broadly investigating the utility of genetically encoded, light sensitive, ion channels and pumps as a means of selectively controlling neuronal activity. One area of major progress has been the use of channelrhodopsins in long range stimulation/mapping experiments. Channelrodopsins are light-sensitive membrane cation channels that allow for neural activation when illuminated with blue light. These channels can be densely expressed in axons and terminal arbors of neurons (not just their soma or dendrites) and these axons/arbors can be excited by light even when severed from parent cell bodies. This feature is highly useful for studying long distance synaptic pathways for which it is difficult or impossible to make brain slices with intact connections between areas of interest. We have used these methods to compare thalamocortical and corticothalamic processing, revealing contrasting principles of feedforward inhibition in the two pathways (Cruikshank, Urabe, et al., 2010). We have recently begun applying optogenetic technologies to study other systems that were inaccessible with previous conventional methods.



REFERENCES:

Cruikshank, S.J. (1997) Evaluation of the Hebbian/covariance hypothesis in receptive field plasticity of adult auditory cortical neurons. Dissertation for Ph.D. in Biological Science, University of California, Irvine, 1997.

Cruikshank, S.J., Edeline, J.M. & Weinberger, N.M. (1992) Stimulation at a site of auditory-somatosensory convergence in the medial geniculate nucleus is an effective unconditioned stimulus for fear conditioning. Behavioral Neuroscience. 106: 471-483.

Cruikshank, S.J., Hopperstad M., Younger M., Connors B.W., Spray D.C., Srinivas M. (2004) Potent block of Cx36 and Cx50 gap junction channels by Mefloquine. Proc. Natl. Acad. Sci. USA. 101(33): 12364-12369.

Cruikshank, S.J., Killackey, H.P., & Metherate, R. (2001) Parvalbumin and Calbindin are differentially distributed within primary and secondary subregions of the mouse auditory forebrain. Neuroscience. 105(3): 553-569.

Cruikshank S.J., Landisman, C.E., Mancilla, J.G. & Connors B.W. (2005) Connexon connexions in the thalamocortical system. Progress in Brain Research. 149: 41-58.

Cruikshank S.J., Lewis, T.J. & Connors B.W. (2006) Synaptic Basis for Intense Thalamocortical Activation of Feedforward Inhibitory Cells in Neocortex. Nature Neuroscience. 10(4): 462-468.

Cruikshank, S.J., Rose, H.J., Metherate, R. (2002) Auditory thalamocortical synaptic transmission, in vitro. Journal of Neurophysiology. 87: 361-384.

*Cruikshank, S.J., Urabe, H., Nurmikko, A.V., Connors, B.W. (2010) Pathway-specific feedforward circuits between thalamus and neocortex revealed by selective optical stimulation of axons. Neuron. 65(2): 230-245.

Cruikshank, S.J. & Weinberger, N.M. (1996a) Evidence for the Hebbian hypothesis in experience-dependent physiological plasticity of neocortex: A critical review. Brain Research Reviews. 22: 191-228.

Cruikshank, S. J., & Weinberger, N. M. (1996b) Receptive field plasticity in adult auditory cortex induced by Hebbian covariance. The Journal of Neuroscience. 16: 861-875.

Cruikshank, S. J., & Weinberger, N. M. (2001) In vivo Hebbian and basal forebrain stimulation treatment in morphologically identified auditory cortical cells. Brain Research. 891: 78-93.

Galarreta M, Hestrin S. (1999) A network of fast-spiking cells in the neocortex connected by electrical synapses. Nature. 402: 72-75.

Gibson, J.R., Beierlein, M. & Connors, B.W. (1999) Two networks of electrically coupled inhibitory neurons in neocortex. Nature 402: 75-79.

*Hsieh, C.Y., Cruikshank, S.J. & Metherate, R. (2000) Differential modulation of auditory thalamocortical and intracortical synaptic transmission by cholinergic agonist. Brain Research. 880: 51-64

*Lee, S-C., Cruikshank S.J. & Connors B.W. (2010) Electrical and chemical synapses between relay neurons in developing thalamus. The Journal of Physiology. 588: 2403-2415.

Long, M.A., Cruikshank, S.J., Jutras, M.J., Connors, B.W. (2005) Abrupt maturation of a spike-synchronizing mechanism in neocortex. The Journal of Neuroscience. 25(32):7309 –7316.

Metherate, R. & Cruikshank, S.J. (1999) Thalamocortical inputs trigger a propagating envelope of gamma-band activity in auditory cortex, in vitro. Experimental Brain Research. 126: 160-174.

*Parker, P.R.L., Cruikshank, S.J. & Connors, B.W. (2009) Stability of electrical coupling despite massive developmental changes of intrinsic neuronal physiology. The Journal of Neuroscience. 29(31): 9761-9770.
Awards
- Brown University Brain Science Program Pilot Grant (2005)
- NIMH NRSA Individual Fellowship (MH10432) (1993-1996)
- Gerard Fellowship, Department of Psychobiology, UCI (1992-1993)
- NIMH NRSA Institutional Fellowship (MH14599) (1990-1992)
- UC Regents Fellowship (1989-1990 & 1996-1997)
- Ralph Waldo Gerard Prize in the History of Neuroscience (1996)
- Magna Cum Laude Graduate (1988)
- National Collegiate Natural Science Award (1988)
- National Merit Scholars Commended Student (1984)
Affiliations
-Society for Neuroscience (1990-present)
-Center for the Neurobiology of Learning & Memory (1989-2001)
Funded Research
- Brown University Brain Science Program Pilot Grant (2005, 2007, 2008)
- NIMH NRSA Individual Fellowship (MH10432) (1993-1996)
- Gerard Fellowship, Department of Psychobiology, UCI (1992-1993)
- NIMH NRSA Institutional Fellowship (MH14599) (1990-1992)
- UC Regents Fellowship (1989-1990 & 1996-1997)
Teaching Experience
I have participated in two types of teaching. The first is through lectures and laboratory courses on various neuroscience topics (listed below). The second is as one-on-one advisor to undergraduate and graduate students within the reasearch laboratories that I have been part of over the past 20 years. I've supervised optogenetic, physiological, anatomical and behavioral neuroscience research in the laboratories of N. Weinberger at UC Irvine (1989-1997), R. Metherate at UC Irvine (1997-2001) and B. Connors at Brown University (2001-present).


COURSE TEACHING:

2008
Synaptic inhibition lecture in undergraduate neurobiology course (BN102) at Brown University, Dept. of Neuroscience

2006-2007
Gap Junction Channels lecture in graduate cellular neuroscience course (BN203) at Brown University, Dept. of Neuroscience

2006-2007
Electrical Synapse lecture in undergraduate neurobiology course (BN102) at Brown University, Dept. of Neuroscience

2004-2005
Trigeminal and Auditory systems lectures to medical students in their human neurobiology course (BN260), Brown Medical School

1990-1992
Psychobiology laboratory course teacher (105L), U. C. Irvine

1991-1992
Director of Physiology, 105L laboratory course, U. C. Irvine

1990-1992
Teaching Assistant, Psychobiology Lecture, U. C. Irvine

1991
Teaching Assistant, Psychoneuroendocrinology Lecture, U. C. Irvine
View My Full Publication List in pdf format
Selected Publications
Cruikshank, S.J., Urabe, H., Nurmikko, A.V., Connors, B.W. (2010) Pathway-specific feedforward circuits between thalamus and neocortex revealed by selective optical stimulation of axons. Neuron. 65(2): 230-245.(2010)
Cruikshank S.J., Lewis, T.J. & Connors B.W. (2007) Synaptic basis for intense thalamocortical activation of feedforward inhibitory cells in neocortex. Nature Neuroscience. 10(4): 462-468.(2007)
Cruikshank, S.J., Hopperstad M., Younger M., Connors B.W., Spray D.C., Srinivas M. (2004) Potent block of Cx36 and Cx50 gap junction channels by mefloquine. Proc. Natl. Acad. Sci. USA. 101(33): 12364-12369.(2004)
Cruikshank, S.J., Rose, H.J., Metherate, R. (2002) Auditory thalamocortical synaptic transmission, in vitro. Journal of Neurophysiology. 87: 361-384.(2002)