Carl Saab, MS, PhD
Edit My Page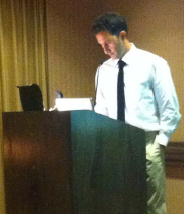 Title: Assistant Professor of Neurosurgery and Assistant Professor of Neuroscience
Department: Neurosurgery & Neuroscience
Section: Surgical Research.

Carl_Saab@brown.edu
+1 401 444 4290
Overview | Research | Grants/Awards | Teaching | Publications
Pain is a protective mechanism but chronic pain can be life-threatening. My research is focused on studying brain connectivity under pain conditions. My lab uses electrophysiology, behavior and signal analysis to identify pain biomarkers, and to test neuromodulation technologies to manage chronic pain diseases.
Biography
Carl Saab is a PhD Neuroscientist studying neurological disorders in model systems. He obtained his PhD in 2001 from the University of Texas Medical Branch in pain research mapping pain pathways in the CNS (thesis advisor WD Willis). He then completed his postdoctoral fellowship in the laboratory of Stephen Waxman at Yale studying sodium channelopathies in pain and multiple sclerosis. Currently Carl is Assistant Professor at Brown University & Rhode Island Hospital, Neurosurgery and Neuroscience.
Research Description
Pain is a national health problem with over $150 billion/year in direct costs and lost productivity. To date, the gold standard for the diagnosis of chronic pain is subjective, verbal report by the patient. My long-term goal is to identify an objective biomarker signal in the brain that could be used as a reliable pain diagnostic, which will also help us better evaluate new therapeutics, as well as better understand the mechanisms of sensory and pain transmission in the brain. Such improvement would also be used to guide neuromodulation techniques for more effective management of chronic pain.
Awards
Ambassador Award, 2010 Executive Mentorship Program at Lifespan January 4 2011

Speaker at the 2010 Executive Mentorship Program Ceremony January 4 2011

2010 Executive Mentorship Program Mar-Dec 2010
(Mentoring with Bradley Hospital CEO, Dan Wall)

Who's Who in Medicine Higher Education April 22 2010

Finalist for RIH Research Celebration New Investigator Award Oct 22 2009

Travel award, Baltic Summer School, Kiel, Germany August 16-30 2003

Young Investigator Travel Support, American Pain Society (APS) April 19-22 2001
20th Annual Scientific Meeting, Phoenix, Arizona
Young Investigator Travel Support and Citation Poster awards, APS November 2-5 2000
19th Annual Scientific Meeting, Atlanta, Georgia

Travel award, International Society for Magnetic Resonance in Medicine May 1999
7th meeting, Philadelphia, Pennsylvania

Travel award, International Association for the Study of Pain August 1999
9th World Congress on Pain, Vienna, Austria

Travel award, University of Wisconsin 1999
Symposium on Health and Emotion, Madison, Wisconsin

Travel award, University of Wisconsin 1998
Symposium on Health and Emotion, Madison, Wisconsin

Certificate of Achievement in Teaching, UTMB Spring 1998
Physiology, Allied Health School

Who's Who Among Students In American Universities & Colleges (# 11 187-24-0-99) 1998

Scholarship (40% Tuition), AUB 1992- 1994
Affiliations
Visiting Lecturer, American University of Beirut, Lebanon, 2-14/3-10 2004; 1-27/2-12 2006.
Funded Research
(Completed)
1. Mechanisms of Neutrophil Recruitment to Dorsal Root Ganglia after Nerve Injury
Rhode Island Foundation; (PI Saab) 2006- 2007
2. N-type Calcium Channels in Nociceptive Neurons
NIH, R01NS055251; (PI Diane Lipscombe, Brown) 2006- 2010
3. Electrophysiological mapping of gastric stimuli to vagal afferent activities in rats
Stryker, Stryker Development; (PI Saab) 2006- 2007
4. Development of Neuroprotective PDZ-domain Inhibitors for the Treatment of MS
NIH, R21NS061176; (PI John Marshall, Brown) 2008- 2010
5. Mechanisms of Microglia in Visceral Pain
NIH, R21DK081628; (PI Elie Al-Chaer, University of Arkansas) 2008- 2010
6. Spinal Microglial Mechanisms of Visceral Hypersensitivity
NIH, R21DK081845; (PI Saab) 2010- 2012
7. Non-invasive EEG Pain Biomarker
Brown Institute for Brain Science; (PI Saab) Jun 2011- Jun 2012
8. EEG pain biomarker: a preclinical study
Boston Scientific; (PI Saab) Jul 2012- Jul 2013
(Active)
9. Pain signature in the brain and reversal thereof using Medtronic's neurostimulation device
Medtronic; (PI Saab) Jun 2012- Jun 2014
10. Thalamic Reticular Pain Bursting
Norman Prince Neuroscience Institute
& Brown Institute for Brain Science (co-PI Saab & Chris Moore) Jan 2013- Jan 2014
11. CNS mechanisms of spinal cord stimulation for pain
Norman Prince Neuroscience Institute
& Brown Institute for Brain Science (co-PI Saab & Julie Kauer) Jun 2013- Jun 2014
12. Analgesic calcium channel blocker Z944
Zalicus, Inc. (PI Saab) Sep 2013- Feb 2104
(In revision)
13. Theta oscillations predict pain (PI Saab)
NIH, R01
14. Migraine Disrupts Brain Rhythms (PI Saab)
Migraine Research Foundation
Teaching Experience
Lecturer (6-hrs), Brown, Neuroscience (BN205): Advanced Systems Neuroscience, Neuroscience, December 30, January 1/7/8 2005.
Courses Taught
Advanced Systems Neuroscience (BN0205)
Advanced Systems Neuroscience (BN205)
View My Full Publication List in pdf format
Selected Publications
1. LeBlanc B.W., Iwata M., Mallon A.P., Rupasinghe C.N., Goebel D.J., Marshall J., Spaller M.R., Saab C.Y. A Cyclic Peptide Targeted against PSD-95 blocks central sensitization and attenuates thermal hyperalgesia. Neurosci 167:490-500, 2010.(2010)
2. Saab C.Y. and Hains B.C. Remote neuroimmune signaling: a long-range mechanism of nociceptive network plasticity. TINS 32:110-7, 2009.(2009)
3. Shaw S.K., Owolabi S.A., Bagley J., Morin N., Cheng E., LeBlanc B.W., Kim M., Harty P., Waxman S.G. and Saab C.Y. Activated polymorphonuclear cells promote injury and excitability of dorsal root ganglia neurons. Exp Neurol 210(2):286-94, 2008 (COVER).(2008)
4. Saab C.Y., Wang J., Gu C., Garner K.N. and Al-Chaer E.D. Microglia: A newly discovered role in visceral hypersensitivity. Neuron Glia Biol 2:1-7, 2007.(2007)
7. Hains B.C., Saab C.Y. and Waxman S.G. Alterations in burst firing of thalamic VPL neurons and reversal by Nav1.3 antisense after spinal cord injury. J Neurophysiol 95:3343-3352, 2006.(2006)
5. Black J.A., Liu S., Hains B.C., Saab C.Y. and Waxman S.G. Long-term neuroprotection of central axons with phenytoin in monophasic and chronic-relapsing murine EAE. Brain 129:3196-208, 2006.(2006)
6. Owolabi S.A. and Saab C.Y. Fractalkine and minocycline alter neuronal activity in the spinal cord dorsal horn. FEBS Lett 580:4306-10, 2006.(2006)
8. Hains B.C.*, Saab C.Y.* and Waxman S.G. Changes in electrophysiologic properties and sodium channel Nav1.3 expression in thalamic neurons after spinal cord injury. Brain 128: 2359-71, 2005 (* equal contribution).(2005)
9. Hains B.C., Saab C.Y., Klein J.P., Craner M.J., Black J.A. and Waxman S.G. Altered sodium channel expression in second-order spinal sensory neurons contributes to pain after peripheral nerve injury. J Neurosci 24: 4832-4839, 2004.(2004)
10. Lo A.C., Saab C.Y., Black J.O. and Waxman S.G. Phenytoin protects spinal cord axons and preserves neurological function in experimental allergic encephalomyelitis. J Neurophysiol 90: 3566-3571, 2003.(2003)